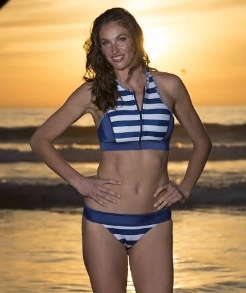 ABOUT ONLINE AND VIRTUAL PERSONAL TRAINING
Jessica travels the AVP Beach Volleyball Tour and has trained with and against some of its biggest athletes. She qualified for her first AVP event in 2015, and has traveled to almost every event since. Her best finish is a 9th in Seattle, Huntington Beach and a 13th in the Hermosa Beach and Austin AVP. Jessica has also been featured in Dig Magazine.
The AVP (Association of Volleyball Professionals) is a National Beach Volleyball Tournament that takes place in high traffic areas, usually nears major beaches, busy piers and popular cities. The tour's stops include, Huntington, Hermosa and Manhattan Beach Pier, NYC, Chicago and many more. A huge stadium is set up that holds roughly 2,000 people. The event is free which helps draw in lots of people and creates new fans. The AVP recently signed a deal with Amazon Prime to give our fans around the world a new, premium viewing experience.